Blog
Pacific Exporter's Network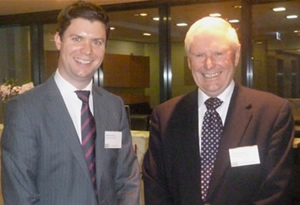 On the evening of 8 April, PEN members and supporters joined clients and staff of Minter Ellison Rudd Watts in Wellington to hear the Hon. Tim Groser, Minister of Trade speak about the negotiations he is currently overseeing to better the business prospects of exporters particularly those who export into the Pacific region. Attendance totalled around 65 which was a record for a PEN event.
The Minister gave an excellent overview of the direction the Government sought in its trade negotiations linking these with the Business Growth Agenda and the aim to increase NZ's exports from 30 to 40% of GDP by 2025. He agreed that the task was a challenge given that there had been no real increase in the past 3 years.
Charles Broad, National Convenor of PEN spoke briefly about the vision of the Network to work constructively to double current Pacific exports by 2018.
The Minister answered questions and participants found his views positive.
PEN plans to keep identifying barriers to increasing Pacific trade and advocate to either lessen their impact or to remove them.
It is PEN's aim to hold more of these kind of events during the year as it continues to build its membership numbers.